LEARNING FROM THE IMPLANT MASTER IN HEIDELBERG BY THE FOUNDER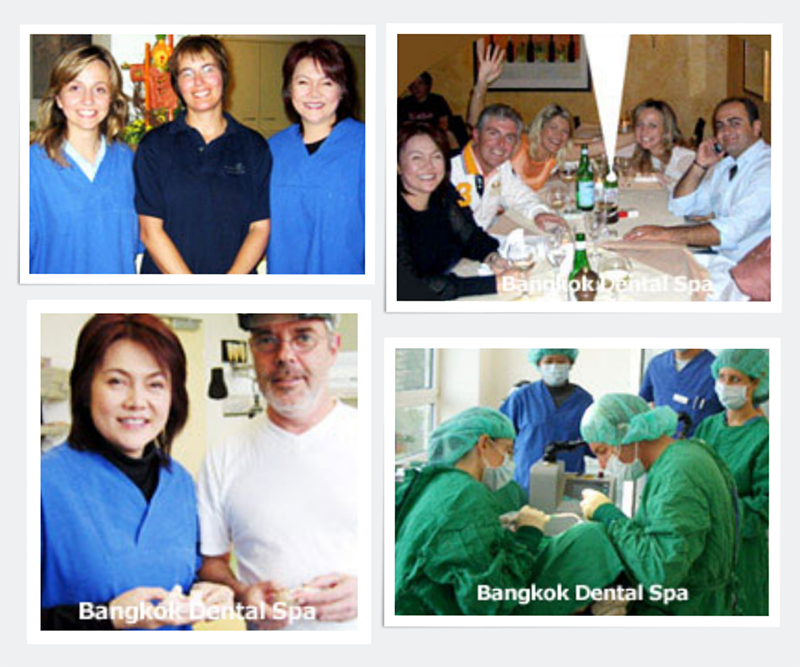 Germany was the first country I visited when I started travelling to Europe in 1993. At that time, Thai citizens could travel easy to Germany, Norway and New Zealand without a visa. This enabled me to arrange my itinerary within five days. I have been to Germany four times in the last 11 years and have spent nearly a month there on every trip. Coincidence I visited Heidelberg 5 times during my several trip to Germany.Tourists should see the ruins at Heidelberg, a World War II battle site.
Also worth seeing is Heidelberg Castle, which was built on the mountain and is renowned for its architecture. From several vantage points here, you can see the Neckar River. By tradition, visitors should flick a coin down into the river and make a wish. During one of my trips here, I arrived late and was unable to enter the castle. I decided to walk through the garden on the way to the terrace where I made a wish.
It worked! Exactly 11 years after first setting foot in Heidelberg, I was there again in September last year to attend a workshop on dental implantation. The invitation came from no less than Dr. Fred Bergmann, one of the world's most renowned implantologist. It was autumn. Rain and gusty wind made it a lot colder. My colleague from Bangkok, Dr. Smerkhae and I arrived in the city by Mercedes.
The history of dental implant started from ancient Egypt til 1952. The quantum leap in oral implantology was achieved in 1952 in the Laboratory of Vital Microscopy at the University of Lund, Sweden, by a Swedish research team headed by orthopedic surgeon Per Ingvar Branemark.
Using rabbits in the research, Dr. Branemark's team designed an optical chamber housed in a titanium metal cylinder screwed into the rabbit's thigh bone. After several months, the titanium cylinder was found bonded to the bone. Dr. Branemark called this phenomenon "osseointegration." Based on this finding, titanium has become the metal of choice in dental application. Further research resulted in the design of a cylindrical titanium screw with a specific surface treatment to enhance its bioacceptance.
(Photo on the left shows the original titanium screw compare with the new update implant.)
Training course with Dr. Bergmann
Since then many other foreign as well as domestic implant systems have surfaced. Most of them are very similar in design to the original Branemark titanium screw. However, many improvements have been made since then by many companies. Today, research continues to influence future designs and concepts.
I started studying dental implant 15 years ago. An American dentist from Palm Springs once told me "if you decide to do the implant, it means that you have decided to marry the patient."
Now is the right time to fill empty tooth spaces through the use of dental implant. An immediate implant involves putting a screw on the abutment and then a temporary crown after only one visit. Normally, most cases involve the front teeth or premolar. But recently, there have been instances requiring an immediate loading in the full denture case. Using the latest technology, patients can arrive at the clinic at 9 a.m. and have their implants fitted together with new dentures by 4 p.m. on the same day. They can't wait to smile! Patients can chose from several treatment plans.
Going back to Dr. Bergmann, he has 20 years experience on dental implant and has worked inwhole Europe and based now in Germany. He is not only a specialist in implantology and a periodontist, but also a teacher who is more than willing to share his knowledge. It comes as no surprise, therefore, that his staff is overwhelmed by the number of patients seeking treatment every day. Also there are many overseas dentists come for training and guidance regularly. I saw it myself when I had a chance to visit him.
His clinic is the dream of every practitioner. It has eight dental chairs and state-of-the-art equipment. He is ably assisted by an experienced surgical team. Dr. Bergman is the best consultant of implant center of Bangkok dental clinic because of his expertise in the field of implant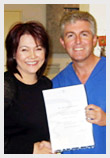 Dr.Bergmann gives The Founder
a recognition certificate
Besides Dr. Smerkhae and me, the course was also attended by Dr. Harris and Dr. Katalina from Greece. We did not only learn the latest developments in dental implant technology, but also met different cultures and lifestyles. I contemplated visiting Greece during my next trip to Europe; every time I close my eyes, I see the blue Mediterranean Sea with houses of different hues built by the cliff.
Dr.Bergmann showed me how he conducted an operation in the surgical room by using a video camera. Even while I was drinking coffee, I never missed anything! He had five or six cases each day in four days and worked from 9 a.m. to 5 p.m. Although his students felt tired, Dr. Bergmann still felt fresh. His patients left the clinic happy. I think only German patients can have a surgery involving a sinus lift and four to eight implants using only local anesthesia, and just drive home afterwards!
Dr.Kasama, one of my maxillofacial surgeon who is a fellow in oral Implantology,Frankfurt University,Germany also made sinus lift and fixed 2 implants for an English patient at my clinic ,Bangkok Dental Spa Clinic. The patient couldn't drive back home but later the wife drove for him.
Spending five days in Viernheim with Dr. Bergmann enabled me to learn more and deeply understand about dental implants. After the training, we decided to go by train to Heidelberg, which was only 30 minutes away. It was my first time travelling by train in Germany. Previously, I drove by myself. It felt so exciting on the train. Upon arrival, however, we got lost and it took us more than two hours to return to our hotel. By that time, it was very late and we were very tired. But the trip was worth because I learnt a lot during the visit to Dr. Bergmann's clinic.
We also went to Friadent's headquarter and had a special lunch at a golf clubhouse nearby with its sales manager. The company manufactures dental implant products and has been in the business for a long time. We toured the factory, saw the production process, and it convinced us to use all of its implant products. Dr. Bergmann confirmed that he has been using their products for the last 20 years with the best outcome. This product also has the long term clinical research.
On our last day Dr. Bergmann invited us to a sumptuous dinner at a typical German restaurant near an old castle in Viernheim. It was the best dinner I've had in a long time, especially after several glasses of beer and wine! He even let me sit in his brand new Porsche before driving away. But we did not go too far! Now I know how fast a German sports car can go.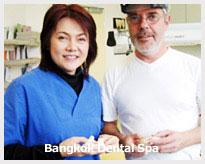 My German friend drove me back to Frankfurt. Before we left, he asked if we wanted to visit Heidelberg again. Aha! The coin thing really works because my wish was granted again.Unfortunately, we were unable to go inside the castle because we were late. So, we just walked through the garden and made a wish again in the same place. We also found time to visit more castles the next day in Wiesbaden. At Kanonesteppel ,the apple wine resturant in textorstrasse 20 , we were asked to try the delicious local food like gegrillte Hinterhaxe mit Hausgemachtem Krautssalat and Laugenbretzel (grilled led of pig with coleslaw and some kind of bread) ,Frankfurter Grene Sosse mit Ochsenbrust (Traditional Frankfurt green herb sauce with beef)
We downed with Bavaria beer (Schoefferhofer) and Applewoi. Here,there are the long tables for everyone can sit closely and chat. I tried to start a conversation with some of the customers. The place reminded me of a school lunch table. In Germany, there are so many brands of beer which somtimes are cheaper than water!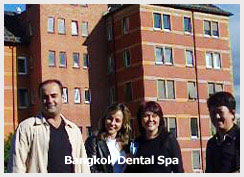 The last day before I left Germany ,someone whispered me "Bis bald, Dr. Lily"
May be my recent magic coin works again. I will never forget all the fabulous places in Germany, even though I 've been there five times and I will not stop visiting Germany for the rest of my life.
For more information about Dr. Fred Bergmann, visit www.oralchirurgie.com
visit http://www.dentsplyimplants.com