Cosmetic Dentistry
IN Bangkok
Cosmetic Dentistry in Bangkok
Transform your smile with safe and high-quality cosmetic dentistry in central Bangkok.
The team at Bangkok Dental Spa are dedicated to providing you with exceptional cosmetic dentistry in a safe, friendly and caring environment. Our motto is "we service your smiles." We are committed to lending our expertise to our patients as their trustworthy dental service provider whenever they feel the need to perfect their smiles. You can find a variety of cosmetic dental services offered at Bangkok Dental Spa. Please feel free to contact us at any time if you have a question regarding our cosmetic dentistry services. The answer is only a mouse-click or a phone call away.
Bangkok Dental Spa - A Dental Sanctuary
At Bangkok Dental Spa we pride ourselves on being a one-stop-dental-service-provider with an expert team who can take care of all dental issues for our patients. We believe in a philosophy of only providing master-piece dental plans and services for our patients.
Our goal of providing only the best dental experience for our overseas patients remains true to this day. Years of experience in the field of dentistry has given our team the confidence to provide you with the most relaxing atmosphere prior to, during, and after your dental treatment.
Spending long hours in the dentist's chair while receiving dental work can be stressful for both the patient and the dentist, especially during cosmetic dentistry and full-mouth rehabilitation procedures. We have discovered that a spa-like environment creates a positive impact on reducing dental pain, improving the level of cooperation with the dentist, and extending the amount of time patients can spend on the dental chair while getting their dental work done. In the end, both the patient and the dentist will come out more relaxed and with great big smiles on their faces.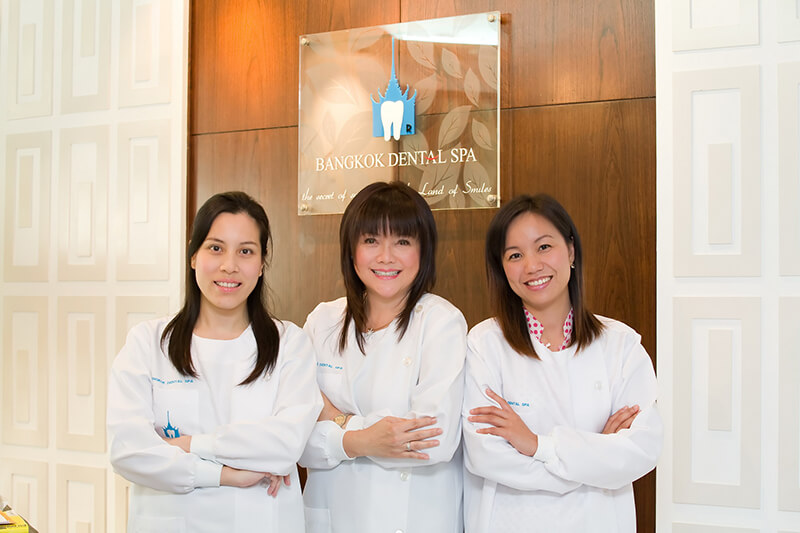 In addition to a spa-like atmosphere, Bangkok Dental Spa has reserved an area for patients who need the extra time and place to rest at any time. The serene resting area and rooms can be used prior to, during, and after the procedure. Bangkok Dental Spa is known to have had friends (who've had to check out early from their hotel) come into the clinic to rest, relax, take a shower, and get themselves freshened up before catching their evening flights home. Transit dental patients who fly in and out within 24 hours do not need to worry about not having a place to rest and stay while they're in Thailand. We can say with confidence that our patients will find our services unique under a friendly and relaxing atmosphere.

Bangkok Dental Spa is conveniently located in the heart of Bangkok near Asoke BTS Station and Terminal 21 shopping center. Though Sukhumvit Road is known for its fast-moving pace, Bangkok Dental Spa takes pride in our vision to be the first dental sanctuary for our patients along with our staff. Nothing makes us smile more than seeing the smile on your face.
Cosmetic Dentistry at Bangkok Dental Spa
Porcelain Veneers
We'll help design your ideal smile with a porcelain veneer makeover. The dentists at Bangkok Dental Spa will not only focus on your teeth but will suggest the perfect color, shape and length of your new teeth that will best match your facial features, to achieve the best outcome for you.

Teeth Whitening
Brighten up your smile with our simple, effective and fast teeth whitening treatment. Teeth whitening is a non-invasive way to remove stains that cannot be removed by simply brushing your teeth, and you will be able to see the results almost immediately.
Crowns
Dental crowns can be used to fix damaged, cracked or decayed teeth. Our dental experts can find the best solution for each patient or suggest alternatives if necessary.
Fastbraces
This is a relatively new, exciting orthodontic treatment, with much faster teeth straightening results than traditional fixed braces. Fastbraces are suitable for most children and adults just like regular braces. Book a consultation today to discuss your treatment options.